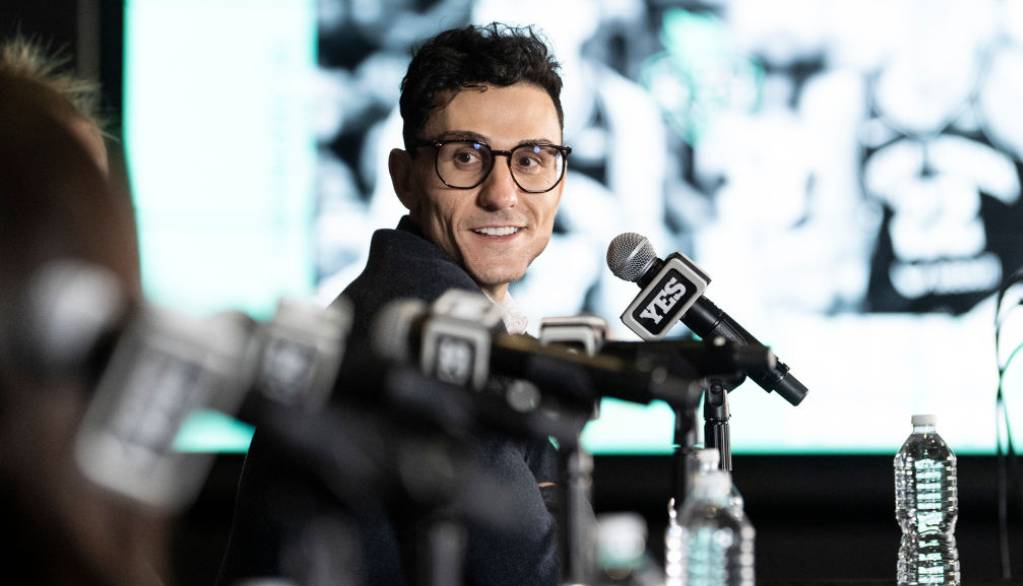 On Monday, August 28, the New York Liberty defeated the Las Vegas Aces in a sellout crowd. Liberty GM Jonathan Kolb talked about the evolution of the team's success, the growth of the organization, and the importance of consistency.
(Photo by Mike Lawrence/NBAE via Getty Images)
In 2019, Jonathan Kolb was named New York Liberty GM, after working as the WNBA Director of Basketball Strategy and Analytics. A few years into his tenure, Kolb declared his strategy for organizational growth and success. He later emphasized a two-year advancement plan, which included the future addition of several key pieces in the long run. Overall, Kolb has certainly fulfilled his promise to gather and develop a talented, championship team.
With vital moves to make, Jonathan Kolb became the 5th GM for the franchise. After finishing 7-27 in 2018, and 10-24 in 2019, the New York Liberty made history in the 2020 WNBA Draft. With the first No. 1 pick in franchise history, the Liberty selected Sabrina Ionescu. Along with Ionescu, New York compiled several picks, including the acquisition of Jocelyn Willoughby. Following Ionescu's inaugural season in New York, Kolb struck another luminous move. In December 2021, New York named Sandy Brondello their ninth head coach, following her departure from Phoenix.
And then came one of the biggest trades in the history of the organization.
The acquisition of Jonquel Jones
(Brandon Todd/New York Liberty)
Following Kolb's promise to bring a championship caliber team to Brooklyn, New York landed Jonquel Jones in a three-team deal. Once traded to New York for the 2021 No. 1 pick, Natasha Howard was exported to Dallas, along with Crystal Dangerfield, for the exchange for Jonquel Jones. The Dallas Wings sent 3-and-D forward Kayla Thorton to New York, and Connecticut received guard Tyasha Harris and Rebecca Allen.
The former MVP, Jonquel Jones, brings more than just scoring to Brooklyn. In her seventh season, Jones has an interior presence the Liberty desperately needed. Along with inside scoring, Jones remains a threat beyond the perimeter, and is a tenacious defender. The addition of Thornton and Jones added an immediate impact on the Liberty's frontcourt, especially with their defensive skill sets.
Following the introductory press conference of Jonquel Jones, Kolb expressed his gratitude for upper management [Joe Tsai, Clara Wu Tsai, Oliver Weisberg].
"Deals like this are hard. It takes time and it takes a lot of people, so it's not just one person," Kolb told reporters. "We are not here at this table with you guys today without their investment in our team, not only monetarily, but their care factor is through the roof." (Via Yes Network).
Following the presser, it's clear that the organization is full of synergy. With one goal in common, New York is striving for its first WNBA title in franchise history. Following the addition of Jones, Kolb had one more item on his wish list, the free agency acquisition of All-Star Breanna Stewart.
The New York Liberty sign All-Star Breanna Stewart and Courtney Vandersloot in free agency
(Brandon Todd/New York Liberty)
Considered one of the greatest signings in WNBA history, The New York Liberty signed Breanna Stewart back in February. Following the news, Kolb found the team's final missing player in veteran Courtney Vandersloot.
Though some players haven't liked the idea of a "super team," it's hard not to envision it. In one of the most striking off-season's, New York was able to fill the gaps with three special players within a single month. Already filled with talent, including Marine Johannes, Betnijah Laney, Stefanie Dolson, and Sabrina Ionescu, the Liberty added the heavy anchors. With Stewart taking significantly less pay, she already had prior experience playing with both Jones and Vandersloot overseas.
Following the free agency signings, the Liberty GM touched upon this incredible time to inherit such impactful players [ Stewart, Jones, Vandersloot], and what impact it will have on the organization.
"It's been a whirlwind. But look, if you want to build something special, like we said in the start, special and sustainable, you need that incremental improvement— and we did that year over year," said Kolb (Yes Network). "We really wanted to enhance a robust player experience with the Liberty, and I think that the players that here, see our vision, they trust us, and now I'm excited for the fans as well."
The impact of the offseason and the 2023 season
Since the offseason, Kolb and the Liberty have built quite the robust roster. With a playoff spot clinched, the New York Liberty are 28-7, and remain 1.5 games back for the top seed. After the matchup on Monday, Kolb once again expressed this team is not done yet.
"If we can achieve a No. 1 seed, that's a major goal, especially with the growing pains," said Kolb. "I think when you look at our record post All-Star, it's really impressive." Since July 15th, the Liberty hold a league best .824-win percentage over the Aces.
The Liberty defeated the Las Vegas Aces, 82-63, to win their first ever WNBA Commissioner's cup. Off to their best start in franchise history, this roster has far met and exceeded expectations. Filled with copious amounts of talent, this Liberty team has found chemistry and stride, in both their starting five and second unit. Knowing each player has to sacrifice their game when fighting for a Championship, each individual player has achieved several accolades this season.
Breanna Stewart
Breanna Stewart, an MVP candidate is having a career year in Brooklyn. Through 35 games, she broke the single-season franchise scoring record, along with the single-season franchise rebounding record. With 38 points against the Lynx, Stewart set a Liberty franchise record for single season 30-point games with 6. She scored a career-high 45 points back in May against the Indiana Fever, on 15-21 field goal shooting. Whether it's a mid-range or a long jumper, Stewart is an elite scorer. Stewart, 29, ranks just second behind Jewel Loyd in overall points scored per game. Along with Jones, she's brought much needed frontcourt strength on both sides of the ball.
https://twitter.com/nyliberty/status/1696321194981494932
Courtney Vandersloot
For Courtney Vandersloot, the point guard recently reached 4,000 career points. Vandersloot, 34, signed with New York after playing all twelve seasons with the Chicago Sky. Through 34 games, Vandersloot has proven herself a true floor general for this team, with tremendous IQ. Besides Alyssa Thomas, the floor general ranks second in assists, with 275 on the season. Her ability to successfully run the point has taken pressure off of Ionescu, who thrives in off ball situations.
https://twitter.com/nyliberty/status/1695634925574066294
Jonquel Jones
https://twitter.com/nyliberty/status/1694848967438209145
Although it took time for Jonquel Jones to adjust after an injury, she's found her stride in this lineup. Since the All-Star break, Jones has 11 total games with double-digit rebounds, including named Commissioner's Cup MVP. Her defensive and blocking mastery has been the difference maker for New York. In six games post All-Star break, the Liberty forward averaged 16.5 points and 12.7 rebounds per game, and ranks 13th in second chance points. On August 24, Jones finished with 21 points, and 14 rebounds in an exhilarating 95-90 overtime win against Connecticut.
Sabrina Ionescu
https://twitter.com/nyliberty/status/1690817633002680320
New York Liberty star Sabrina Ionescu knows what it takes to win on a championship contending team. After signing a multiyear extension in May, she broke the all-time three-point contest record with 37. This season, the Liberty guard became the fastest player to reach 200 threes in WNBA history (July), and became the fastest guard to reach 500 career rebounds. She currently leads the WNBA in 119 three-pointers made this season. The sharpshooter has been able to step up in crucial moments, including making free-throws in the final seconds against Connecticut.
The importance of New Yorks role players
(Brandon Todd/New York Liberty)
Though the addition of Stewart, Vandersloot, and Jones was pure brilliance, Kolb created a dominant group of players on paper, whom are all exceptionally talented. Betnijah Laney former defensive player of the year, has been exceptional on both sides of the floor. In line with Kolb's strategy, the formation of Laney, Jones, and Thorton has been key for the Liberty on defense. Post All-Star break, New York ranks third in defensive efficiency, and is the top team when it comes to defensive rebounding.
Evolution of the organization and growth of the franchise
Now considered a rivalry, the New York Liberty and Las Vegas Aces matched up for the fifth and final time, including the Commissioners Cup. Excluding the cup, both teams are respectfully the best in the league, in which New York won the series, 3-1. Shortly, after the Libertys victory on Monday, GM Jonathan Kolb had some words about the evolution of the team.
"I think it says how far we've come," Kolb told the media. "I've gone back to 2019 to here—it's surreal, for me personally, just to look around this arena and see these fans that have been with us the whole way."
On Monday, the Liberty set an attendance record of 11,615 vs. the Aces at the Barclays Center.
"To call this home, and to come together for a game like this, this was huge," Kolb told reporters. " We want to be a Liberty town in the summer, and it's really turned into that. I think when you see outside— the players, likeness on the buildings, on the subways— walking around Brooklyn you see [Laney] jerseys, [Sabrina] jerseys, it's been really special."
The main goal: to bring a championship to New York
Kolb's vision has always been to create a championship caliber team. Now that he's done so, he admits that consistency is key, and that the vision is finally coming together. The evolution of the team has been remarkable, although Kolb admits there's still more work to be done. The Liberty haven't always maintained large leads, especially in the first half of the season.
"Now it's about when we build those leads, maintaining them, and then carrying that momentum into the postseason. I think it shows we know who we can be, and it's just about consistency. Now it's leaning into what the winning formula is every night."
Through the first half of the season, the Liberty committed 15.2 turnovers a game, which was 10th worse in the league. Since then, Sandy Brondello's squad has done a much better taking caring of the ball, only averaging 13.2 turnovers since the break.
"I think we've done a much better job taking care of the ball," Kolb told reporters. "That's something for us where we've struggled." "I think we have done a much better job of cleaning the turnovers and really maximizing our possessions."
With a tough five game stretch to end the regular season, the Liberty currently are the second seed. Since the inaugural season in 1997, Kolb, along with the staff, players, and coaches, are looking to bring the first ever championship to New York.
Head Coach Sandy Brondello, recently moved up to 9th on the all-time coaching list with 200 wins. Her ability to incorporate several stars and chemistry has been astounding.
"This is a great group people, but it's not necessarily an easy coaching job. She's done a great job of getting this team to buy in," praised Kolb.The Liberty matchup against the Connecticut Sun on Friday, at the Barclays Center.
For more WNBA related articles, click here!
Sara Jane is a full-time Sportswriter at BallisLife, Journalist, and Sports Content Creator on Twitch. She has a focus on the NBA, WNBA, NCAA Basketball, and the NFL. Sara Jane currently resides in Connecticut with her Cat and Dog. SJ has her undergraduate degree from the University of Connecticut in Economics.
Keep up with us on social media!